Roy Choi and Daniel Patterson Launch loco'lDaniel Patterson
Just a few moments ago, Daniel Patterson and Roy Choi took to the stage at MAD4 and announced that they will be launching loco'l, a concept that aims to supplant the fast-food chains and convenience stores that separate our youth from the taste of real food. The first branch will launch on the west coast in the spring of 2015. Here's Patterson on a few details. Stay tuned for more news on this collaboration and its efforts:
Two years ago I started teaching cooking classes to kids from an organization in San Francisco called Larkin Street Youth Services. Larkin Street takes in young adults who have been living on the streets, and provides them with food, housing, counseling, and job training. Many of them had subsisted their whole lives on processed food; few had ever cooked before. I showed them simple, tasty dishes from diverse cultural traditions that they could recreate on their own. Watching the students discover food cooked with good ingredients was a revelation.
Inspired by that experience, I formed a non-profit foundation called The Cooking Project. Through a series of free classes, we not only teach young people how to cook, but also the value of gathering around the table. Over the last year we have connected with many other non-profit and social justice organizations, but I knew from the beginning that no matter how much it grew, the foundation wouldn't be enough to create widespread change. I needed to start a business that could grow quickly and supplant the fast-food chains and convenience stores that separate our youth from the taste of real food. I envisioned a new kind of fast-food restaurant that served real food in a nice environment, and which could contribute to the neighborhood around it in myriad ways. For the same price as corporate chains, we could cook dishes so compelling and delicious that the people who went there would begin to crave more nutritious food. It was a great concept, but I had no idea where to start.
My answer lay to the south, in Los Angeles, where Roy Choi was bringing people together from all over the city around Kogi—food trucks that served tasty, hard-to-categorize food. As Kogi's reputation and success grew, so did Roy's drive to feed more people. He began opening brick and mortar places that improved their communities, like 3 Worlds Cafe, a fruit and juice bar in South Central, an area of the city that lacks real, nutritious food.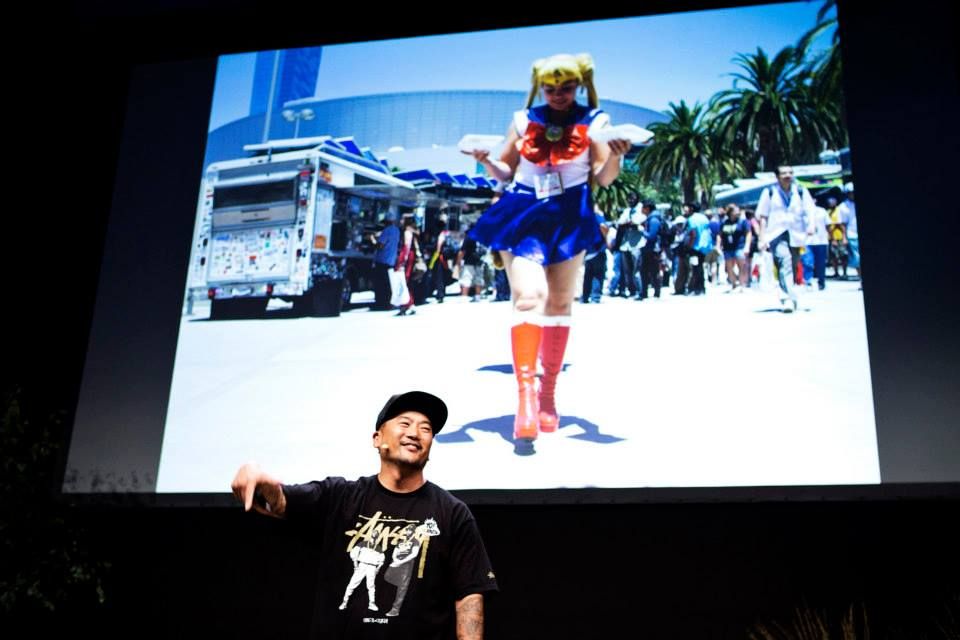 Choi at MAD3
Last year at MAD, Roy talked about hunger. About the fact that so many people in the U.S. don't have enough to eat. About all of the neighborhoods that have no access to real food, despite being close to more affluent communities that do. The invisible barrier, he called it. Roy spoke passionately about social responsibility and creating cultural change, saying that cooks could and should do more. He challenged the chefs there to use their skills to bring real food to people in need. He said everything I was thinking. After MAD, I called him and told him my idea.
Together, we are making our vision a reality in the form of loco'l. The first branch of this new restaurant company will open in San Francisco in spring of 2015, and the second in Los Angeles a few months later. We want you to see the final product for yourselves when we open, but below is an excerpt from the raw, stream-of-consciousness mission statement that we sent to our designers, to give you an idea of what we're planning.
This would not have happened without MAD, but MAD itself would not have happened without the evolution of the role of a chef in today's society. Long hours and hard work will always be a requisite for being a good chef. But now food is culturally valued in a way that has opened up new possibilities. High-level chefs have an opportunity to do much more than just cook for the few people who can afford it. We can create real change, in this case by building a better business. As much as thoughtful articles and speeches and books are important in shifting how we think, they are not going to solve the food problems we have in our country. Our government certainly won't solve them, either. We have to act if we want change. If we can open profitable restaurants that are inexpensive and serve delicious food made with real ingredients; if we bring new options to places that currently lack quality food; if we cook with heart; if we create an environment of warmth, generosity, and caring; and if we value the people with less money just as much as the ones with plenty, we can make a difference.
We will put our decades of cooking experience into the menu development, but we won't be alone. We will work with our friends, like Chad Robertson from Tartine, who is creating whole-grain, long-fermented buns for us. Our board of directors will be filled with great chefs who can contribute their knowledge and guidance, like Rene. We hope that loco'l, like MAD, will capture the spirit of our generation: This is a time of collaboration, cooperation, and sharing.
We hope you'll join us.
Peace and love,
Daniel and Roy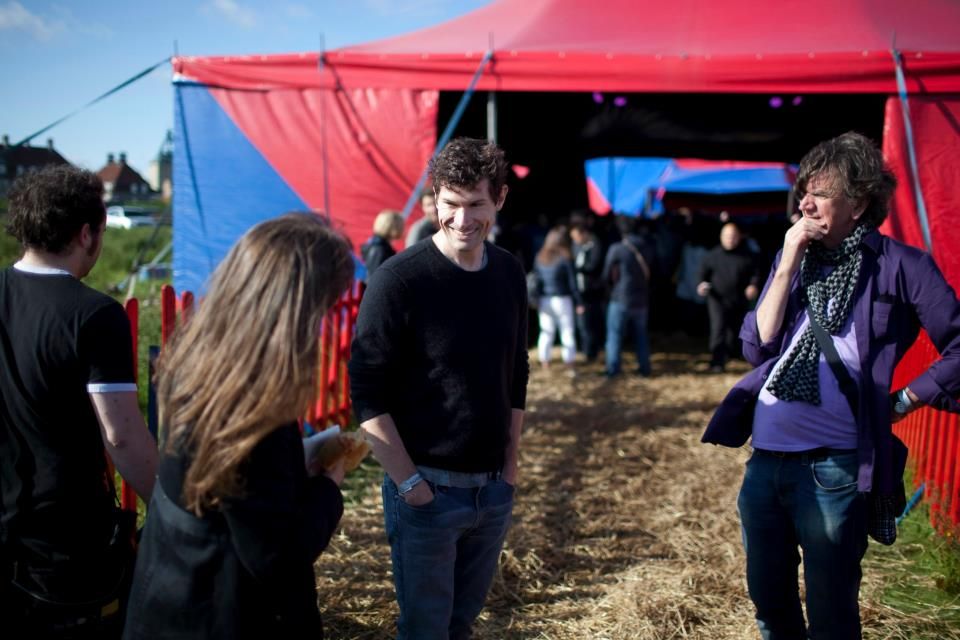 loco'l is the whole idea of local but loco to change. Local meaning family and caring for each other and the world. Loco for not taking the shit that's being passed down and perpetuated on us. It's this push and pull of honesty, love, and revolt.
It's delicious food that crosses all cultural boundaries, that represents what America is now. Tasty, healthful, made from whole foods, good ingredients, principles of sustainability.
We see it as a gathering place which everyone can use in a different way, and where everyone can feel comfortable. We can create workshops and bring in instructors to use the spaces as classrooms for yoga, meditation, art, wellness. Pay our staff good and treat them well. Create a culture of hospitality and caring in everyone who works there. Work with young artists to create kids toys but also to spread culture through their art. Really good lighting. Great music.
We will open in upscale malls and next to highways, in downtowns and trendy neighborhoods. But what will change everything is that we will also open in the inner city areas where there are only big corporate chains, places where you will never see real food or high quality operators. 
Delicious food for everyone. That's the revolution.